Posts for: May, 2014
By New Holstein Family Dental
May 30, 2014
If your teeth are not as bright as they used to be, or as white as you'd like them to be, then whitening or bleaching them may be the solution. Surface stains from coffee, tea, red wine or tobacco may be the most likely culprits. Internal staining can also be the result of root canal treatments, large fillings, too much of a good thing, like fluoride — or just plain aging. In some cases taking an antibiotic (tetracycline) during tooth development can cause permanent staining. In most cases bleaching stained or yellow teeth can really make a difference, helping to make them brighter and whiter.
The active ingredient in whitening products is hydrogen peroxide, which is also the breakdown product in carbamide peroxide. If a good regular dental cleaning doesn't remove your stains, then these products can bleach stains that are either superficial (on the surface) or deeper within the tooth structure. "In office" professional tooth whitening speeds the process along with the use of specialized lights or lasers, so that your teeth will whiten after only one or two office visits. Professional whitening or bleaching, which uses up to 35% peroxide solutions, may cause transient tooth sensitivity, but this will fade away quickly within a few days. Gum protection is also necessary to prevent irritation.
The effects of bleaching usually last six months to a year, at which time all that may be necessary is a minor touch up or refresher. And your whiter, brighter teeth will last longer if you avoid the habits that caused them — like avoiding smoking and foods that cause staining.
Whitening products for home use are an alternative to professional whitening systems that we apply in the office. Products for home use have a lower concentration of the active bleaching ingredients. We can make you custom fitted "trays" that exactly fit your teeth, and provide you with home strength whiteners, so that you can whiten at your own pace and stop at the brightening level of your choice.
And finally there are over-the-counter (OTC), whitening products, at even lower strengths for safety, but they are slower to work.
If whitening doesn't give you the smile you want, and deserve, then you may need to consider veneers or crowns to improve your smile.
Make an appointment to have a consultation with us about your personal cosmetic needs. We will review all the risks, benefits and alternatives to bleaching. You can learn more about teeth whitening by reading the Dear Doctor magazine article "Teeth Whitening: Bleaching is an effective method with minimal side effects."
By New Holstein Family Dental
May 15, 2014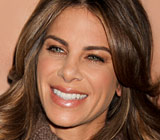 Jillian Michaels, personal trainer and star of television's The Biggest Loser isn't afraid of a tough situation — like a heart-pumping exercise routine that mixes kickboxing with a general cardio workout. But inside, she told an interviewer from Dear Doctor magazine, she's really a softie, with "a drive to be one of the good guys." In her hit TV shows, she tries to help overweight people get back to a healthy body mass. And in doing so, she comes face-to-face with the difficult issue of sleep apnea.
"When I encounter sleep apnea it is obviously weight related. It's incredibly common and affects millions of people," she says. Would it surprise you to know that it's a problem dentists encounter as well?
Sleep apnea is a type of sleep-related breathing disorder (SRBD) that's associated with being overweight, among other things. Chronic loud snoring is one symptom of this condition. A person with sleep apnea may wake 50 or more times per hour and have no memory of it. These awakenings last just long enough to allow an individual to breathe — but don't allow a deep and restful sleep. They may also lead to other serious problems, and even complications such as brain damage from lack of oxygen.
What's the dental connection? Sleep apnea can sometimes be effectively treated with an oral appliance that's available here at the dental office. The appliance, worn at night, repositions the jaw to reduce the possibility of the tongue obstructing the throat and closing the airway. If you are suffering from sleep apnea, an oral appliance may be recommended — it's a conservative treatment that's backed by substantial scientific evidence.
As Michaels says, "I tell people that [sleep apnea] is not a life sentence... It will get better with hard work and a clean diet." So listen to the trainer! If you would like more information about sleep-related breathing disorders, please contact us for a consultation. You can learn more in the Dear Doctor magazine article "Sleep Disorders and Dentistry."