Posts for: September, 2014
By New Holstein Family Dental
September 24, 2014
A wise man once said, "No man is an island." Something similar could be said about our teeth — their health and vitality are intricately linked with a person's general health. Missing teeth in particular can set off a chain reaction that leads to bone loss, an issue for both your health and appearance.
Bone is composed of living cells that go through normal cycles of growth and resorption (the dissolving of mineral composition in the bone). In our early years, there's more growth than resorption as our skeletal structure develops; in adulthood the cycle tends to equalize between the two phases. In our later years, the cycle tends more toward resorption.
The action of biting and chewing actually helps keep the cycle on track as the generated forces stimulate bone growth. When teeth are missing, though, the bone no longer receives this stimulation and will resorb at a higher rate. This is especially a concern for people who've suffered a complete loss of their teeth.
This bone loss may in turn trigger a number of related problems. The jaws may no longer close properly, leading to painful stress in the joints. Nutrition suffers as food choices become limited due to the lack of teeth and bite problems. And, a person's appearance may change as well — the bone loss shortens the look of the face and causes the person to appear much older than they are.
Because of these potential problems, we should do everything we can to preserve and prolong natural teeth. But if preservation isn't an option, then some form of restoration should be pursued. Dental implants in particular may actually prevent and even reverse bone loss. Bone has an affinity with titanium (which is what the implant is made from) and will attach and grow around it over time. This not only anchors the implant, it also increases bone mass where it may have been prematurely lost.
Caring for and preserving your natural teeth is one of the best things you can do for the health of your jawbone. If you lose your teeth, though, there are ways to restore them and protect bone health — and your smile — at the same time.
If you would like more information on the effects of tooth loss, please contact us or schedule an appointment for a consultation. You can also learn more about this topic by reading the Dear Doctor magazine article "New Teeth in One Day."
By New Holstein Family Dental
September 09, 2014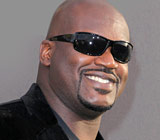 You may think snoring is a minor problem, but it can be a lot more than that. Just ask hoops star Shaquille O'Neal, whose rambunctious snoring bothered his girlfriend enough for her to suspect a health problem. Her observations eventually led to Shaq's diagnosis of moderate Obstructive Sleep Apnea (OSA), which occurs when the soft tissue structures at the back of a person's throat, including the tongue, partially close off the upper airway and prevent air from moving into the lungs during sleep. Sometimes airflow can be blocked completely for 10 or more seconds.
When air flow is reduced, blood oxygen levels drop. This leads to brief waking episodes known as "micro-arousals," which can happen sometimes more than 50 times an hour. The sleeper might not even be aware of this, even while gasping for air. Micro-arousals prevent the person from ever reaching deep, restful sleep.
Besides suffering from excessive daytime sleepiness, studies show sleep apnea patients are at higher risks of heart attacks, congestive heart failure, high blood pressure, brain damage and strokes. People with sleep apnea also have a higher incidence of work and driving-related accidents.
OSA can be treated in a few different ways. On the advice of his doctor, Shaq opted for a Continuous Positive Airway Pressure (CPAP) machine, which generates pressurized air delivered through a face mask worn while sleeping. The force of the pressurized air opens the airway (windpipe) in the same way as blowing into a balloon does.
For people with milder OSA, or who find they can't tolerate wearing a mask during sleep, an oral appliance supplied by a dental professional might be the answer. Oral appliances are worn in the mouth and are designed to gently reposition the jaw and move the tongue forward away from the back of the throat. Success rates of 80% or more have been reported using oral appliances, depending on the severity of the OSA.
If you would like more information on sleep apnea, please contact us or schedule an appointment for a consultation. You can learn more about sleep apnea by reading the Dear Doctor magazine article "Snoring & Sleep Apnea." Dear Doctor also has more on "Sleep Disorders & Dentistry."