Posts for tag: periodontal disease
By New Holstein Family Dental
February 08, 2019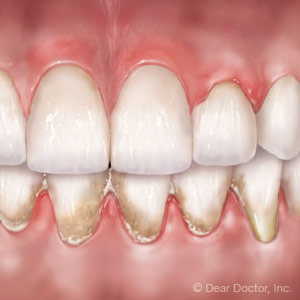 Periodontal (gum) disease, a bacterial infection caused by plaque, is one of the most prevalent and destructive dental conditions. Left untreated it can eventually lead to tooth and bone loss.
Although people are often unaware they have gum disease, there are a few warning signs to look for. Here are five gum disease signs that should prompt a dental visit.
Gum Swelling and Redness. Like all infections, gum disease triggers an immune system response that releases antibodies into the gums to attack the bacteria. The ensuing battle results in inflammation (swelling) and a darker redness to the gum tissues that don't lessen with time.
Gum Bleeding. It isn't normal for healthy gum tissue, which are quite resilient, to bleed. In a few cases, bleeding may indicate over-aggressive brushing, but more likely it means the tissues have weakened to such an extent by infection they bleed easily.
Tooth Sensitivity. If you notice a shot of pain when you eat or drink something hot or cold or when you bite down, this could mean infected gums have "drawn back" (receded) from the teeth. Gum recession exposes the tooth roots, which are more sensitive to temperature and pressure changes in the mouth.
An Abscess. As weakened gum tissues detach from the tooth, the normally thin gap between them and the tooth deepens to form a void known as a periodontal pocket. This often results in an abscess where pus collects in the pocket and causes it to appear more swollen and red than nearby tissues. An abscess needs immediate attention as bone loss is greatly accelerated compared to normal gum disease.
Tooth Looseness or Movement. As diseased gum tissue causes loss of gum and bone attachment, the affected teeth will start to feel loose or even move to a different position. This is a late and alarming sign of gum disease — without immediate intervention, you're in danger of losing the tooth.
If you encounter any of these signs, contact us for an examination as soon as possible. The sooner we can diagnose gum disease and begin treatment, the less damage it will cause — and the better your odds of regaining healthy teeth and gums.
If you would like more information on gum disease, please contact us to schedule an appointment for a consultation. You can also learn more about this topic by reading the Dear Doctor magazine article "Warning Signs of Periodontal (Gum) Disease."
By New Holstein Family Dental
October 21, 2018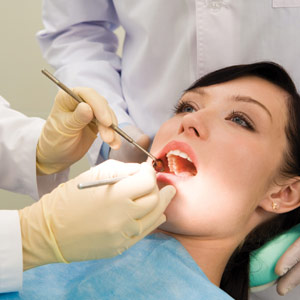 Surgical treatment for periodontal (gum) disease can go a long way toward restoring your mouth to good health; however, it does not change your susceptibility to the disease. That's why we recommend that you come in regularly for periodontal cleanings after your treatment. Here are some frequently asked questions about keeping your mouth healthy after gum disease treatment.
How often do I have to come in for periodontal cleanings?
There's no "one-size-fits-all" answer to that question: It really depends on your individual situation. For example, some individuals may have a more aggressive form of periodontal disease that requires more frequent periodontal maintenance (PM) treatments to maintain control. Others may have greater success controlling the buildup of disease-causing plaque with at-home oral hygiene measures, and therefore need PM less often. However, for people with a history of periodontal disease, getting PM treatments at a three-month interval may be a good starting point.
What happens at a periodontal maintenance appointment?
A thorough cleaning of the crown and root surfaces of the teeth, aimed at removing sticky plaque and hardened dental calculus (tartar), is a big part of PM treatments — but there's much more. You'll also receive a thorough clinical examination (including oral cancer screening), a review of your medical history, and x-rays or other diagnostic tests if needed. The status of any ongoing periodontal disease will be carefully monitored, as will your success at maintaining good oral hygiene. Decisions about further treatment will be based on the results of this examination.
What else can I do to keep gum disease at bay?
Keeping your oral hygiene in top-notch condition — which includes effective brushing and flossing every day — can go a long way toward controlling gum disease.  In addition, you can reduce risk factors by quitting tobacco use and eating a more balanced diet. And since inflammatory conditions like diabetes, arthritis and cardiovascular disease can make periodontal disease worse (and vice versa), keeping these conditions under control will greatly benefit both your oral health and your overall health.
If you have additional questions about maintaining oral health after gum disease treatment, contact us or schedule an appointment.
By New Holstein Family Dental
August 25, 2014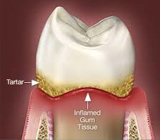 Advanced periodontal (gum) disease is a chronic, progressive condition characterized by bacterial infection and inflammation. Without proactive treatment, gum disease can cause extensive damage to the various tissues that hold teeth in place, and lead eventually to tooth loss.
As every war has its tactics, so the war against advanced gum disease is no different. Here's a few of the approaches and treatments we use to stop the disease and promote healing to damaged tissues.
A Change in Behavior. Regardless of other risk factors, a film of bacterial plaque on tooth surfaces caused by a neglect of proper oral hygiene is the main culprit behind progressive gum disease. Your first step is to form new hygiene habits — brushing and flossing — that will need to be performed daily to be effective. It's also time to end some old habits like smoking that are contributing to your gum disease.
Total Plaque Removal. Although your renewed efforts at oral hygiene are essential, it's just as important for us to use our expertise to remove the hard deposits of plaque (known as calculus) you can't reach with brushing and flossing. Clinging stubbornly below the gum line, these deposits will continue to be sources of infection until they're removed. Using techniques known as scaling or root planing, we employ ultrasonic or manual instruments to access and remove as much of the offending deposits as possible. This essential step may require more than one visit to give time for inflammation to subside, and may be followed with antibiotic therapy as well.
Surgical Treatments. Although quite effective in most cases of gum disease, scaling or root planing may not be adequate in more severe cases. We still have other weapons in our arsenal, though — there are a number of surgical procedures we can use to eliminate hidden pockets of infection, or repair and regenerate damaged tissues and bone. These procedures not only help restore you to better oral health and function, but also establish a more conducive environment for maintaining future care.
Using these and other techniques, we can reduce the infection and inflammation associated with gum disease. This sets the stage for healing and renewed health, both for your mouth and your entire body.
If you would like more information on treatment for periodontal gum disease, please contact us or schedule an appointment for a consultation. You can also learn more about this topic by reading the Dear Doctor magazine article "Understanding Periodontal Disease."